Special "Pint-Sized" Learning Event @ Crooked Goat Brewery with Local School Superintendents on Thursday, 9/28 @ 7pm
Date: Thursday, September 28, 7:00 PM - 8:00 PM
Place: Crooked Goat Brewery / 110 Howard Street Downtown Petaluma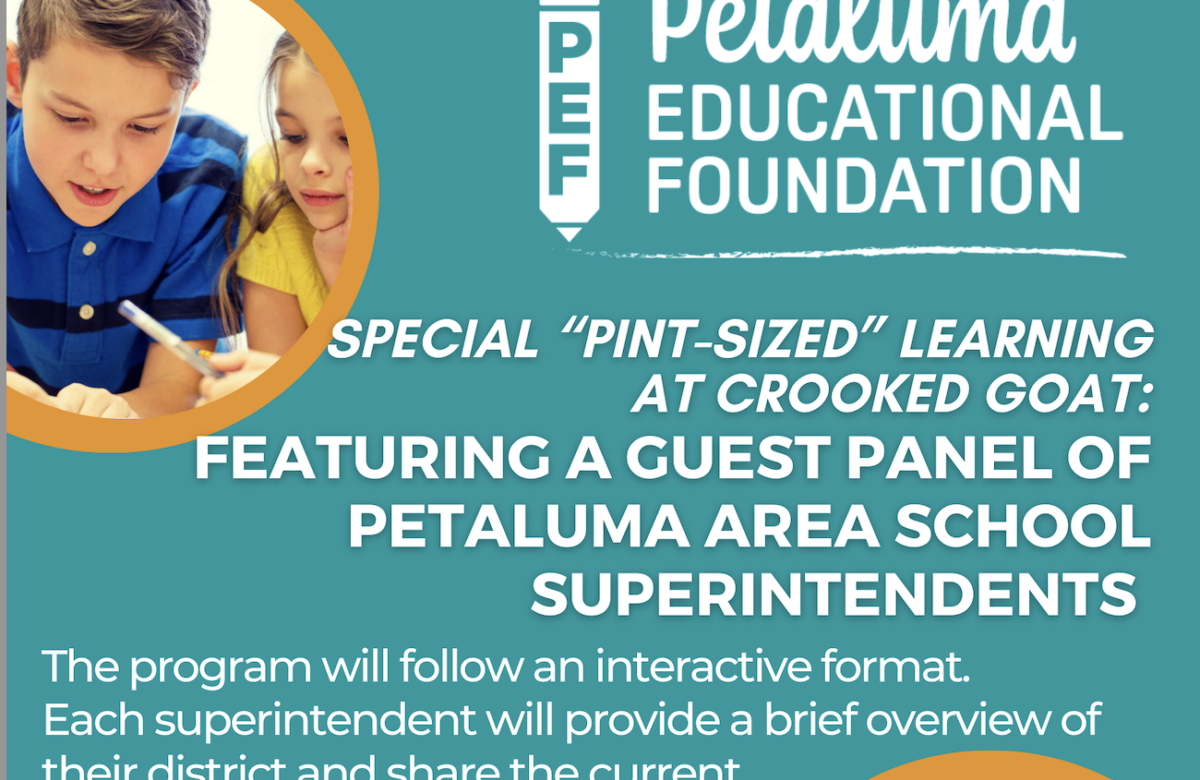 PETALUMA EDUCATIONAL FOUNDATION ANNOUNCES SPECIAL EVENING EDITION OF THE POPULAR PEF BITE-SIZED LEARNING SERIES!
This month we present "Pint-Sized" Learning at Crooked Goat Brewery with a Petaluma Area Schools Superintendents Panel on Thursday, September 28, 2023, at 7:00 p.m.
Join Us for Our New Quarterly One-Hour Lessons Exploring Topics Related to Education & Resources For Today's Families
Collaborating with guest presenters each quarter, the Petaluma Educational Foundation (PEF) will host the free Bite-Sized Learning Series, discussing current educational trends and resources.
This month, the quarterly program offers a special evening event on September 28, 2023, at 7:00 p.m. with a Petaluma Area Schools Superintendent Panel. The "Pint-Sized" Learning session at Crooked Goat Brewery in downtown Petaluma will follow an interactive format. Each guest superintendent will briefly overview their district and share their school's current needs and priorities. The one-hour event will include a question-and-answer session.
The program is free to attend in person. This is a no-host event. Beverages will be available for purchase from the main bar. Crooked Goat Brewery is located at 110 Howard Street, Petaluma. You can register for the program here or contact PEF at 707.778.4632 for more information.
About the Petaluma Educational Foundation:
The Petaluma Educational Foundation's vision is to create impactful educational opportunities for all students in our community. Our mission funds programs that promote critical thinking, creativity, student well-being, and lifelong learning. The Foundation raises funds from individuals and business partnerships. Launched in 1982, PEF has awarded $ 8,657,520 to schools and students through the annual PEF Impact Grant and PEF Scholarship programs. PEF is designated by the Internal Revenue Service as a tax-exempt, non-profit, charitable 501(c)(3) organization. Our tax ID# is 94-2847212.